<Artist Comment / 作家コメント>
Imagine within IMAGINATION
Imagine if only we find the way into the new perspective of the Imagination world.
The people are looking for LOVE, FREEDOM, VITALITY…..on and on.
Started from Genesis to Revelation and from Alpha to Omega.
They discover the Kingdoms of eternity surrounding themselves with the landscape that is full
of philosophy and spirituality, the significance of existence.
The gates of the Kingdoms shall not be shut at all, let the people all come and go.
Layers after layers, life after life, people are silently blessed with vivid Imagination.
もし我々だけが想像世界の新たな視点へたどり着くならばと想像しよう。
愛、自由、活力を探し求める人々…延々と。
始まりは創世記から黙示録へ、そしてアルファからオメガへ。
彼らの見出す永遠の王国は哲学と精神、存在意義に満ちた地形に囲まれている。
王国の門は一切閉ざされるべきではない、人々の往来を。
幾重もの重なり、命に次ぐ命、鮮明な想像力を人は静かに享受している。
Chookiat Likitpunyarut

Born in 1955

1979
BFA Silpakorn University, Bangkok, Thailand
1983
MS Pratt Institute, New York, USA
1989
Illustration
New York Times, Book review / Newsweek
1991
the INSIDE STORY / Pratt Alumni Exhibition

チューキァット・リキトパウンヤラット

1955年生まれ

1979
シルパコーン大学卒業(バンコク)
1983
プラット・インスティテュート大学院修了(ニューヨーク)
1989
イラスト
ニューヨークタイムス、書評/ニューズウィーク
1991
インサイドストーリー/プラット卒業生展覧会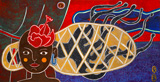 Face 2013
Gouache on paper
17×32cm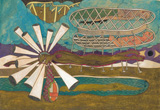 Explorer 2015
Gouache on paper
17×26cm